Date:
Wednesday, October 22, 2014 - 17:30
Presenter:
various final year environmental engineering students
Venue:
UQ Advanced Engineering Building
Event Details:
Find out who won and see pictures of the 2014 Qld Student Awards night here.

The annual student awards night allows Environmental Engineering and Science undergraduate students from Queensland universities to feature their thesis and project work to an audience of industry professionals and fellow students.
The event also allows a demonstration of the directions in current environmental research and shows the diversity and quality of thesis studies from all over Queensland.
Final year environmental engineering and science students from universities in Queensland are invited to attend and present their research or project work.
Jina Sharma - University of Queensland
Modelling the Settling Behaviour of Indurated Sand at the Port of Brisbane
Zachary Lemon - Griffith University
Synthesis of aniline-functionalised GQDs and their sensing capabilities to hydrocarbons
Hong Vu - Queensland University of Technology
Sanitation implementation and technology for human waste and management in urban slums: Mumbai, India
Kristina Luscombe - University of Queensland
Impact of Clothes Washer technology and Hot Water System configuration on GHG emissions in Victoria and Queensland
Andrew Grigg - University of Southern Queensland
Mapping Changes in Landscape-Scale Patterns of Vegetation in Coal Seam Gas Development Areas
Jesse Gabrilaitis - Queensland University of Technology
The Use of New Generation Geosynthetics in Water Treatment
Maddy Gabrielli - University of Queensland
Greenhouse gas emissions analysis for the Brisbane Airport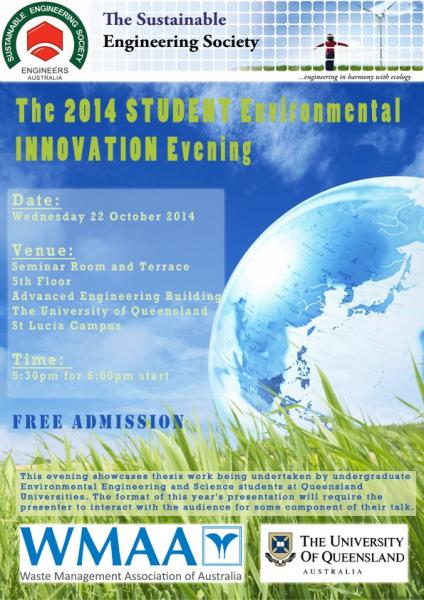 For information about the event in recent years, go to this page and look at details of the events from 2006 to 2013.
The success of this event relies on the support of the engineering industry, both through participation and financial support. Funds are used to subsidise transportation costs for regional students, and to provide a small cash prize to winning students. Venue and catering costs are being provided through the kind support of the host University.
Gold sponsor:
Silver sponsor:
JJ Richards
Find out who won and see pictures of the 2014 Qld Student Awards night here.