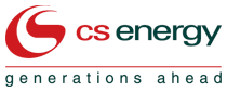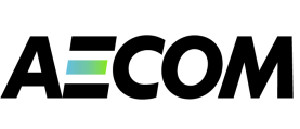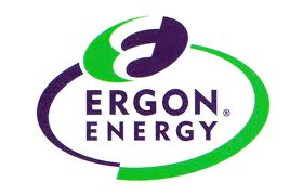 The 11th Annual Queensland Environmental Engineering Student Awards Night was hosted this year by University of Queensland at St Lucia Campus on Tuesday 26 October 2010. (Event Flyer and Program)
The evening showcased thesis projects being undertaken by Queensland undergraduate students studying environmental science, environmental management and environmental engineering in 2010 within SEQ as follows:
Gleb Kolenbet – Griffith University
Development of a trade waste and sewage loading and costing model
Julia Cheong – Queensland University of Technology
Preliminary development of a sewerage infrastructure buffer assessment tool for Environmental Engineering Risk & Strategic Land Use Planning
Kaitlin Richards – University of Queensland
Treatment evaluation and optimisation of Rocks Riverside Park Sewer Mining Facility
Melissa Williams – University of Queensland
A comparative analysis of cleaner production perspectives and implementation in Australia and Vietnam and implications for cross-border knowledge exchange
Brendan Brown – James Cook University
Application of forward osmosis to concentrate sugar solutions
Jonathan Ham – James Cook University
Evaluating corrosion in drinking distribution networks through modeling
Dr Rene Rozendal - Australian Water Management Centre
Resource Recovery: A Paradigm Shift In Industrial Wastewater Treatment
The entries were all of a very high standard and because of this the results were all very close however congratulations go to the winner Jonathan Ham from JCU, shown below receiving his certificate.
Jonathan is the Qld nominee for the SSEE National Student Award for 2011.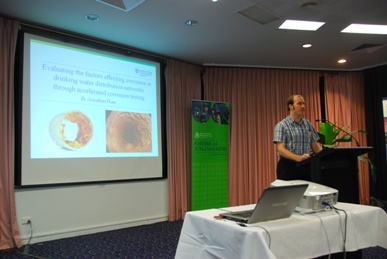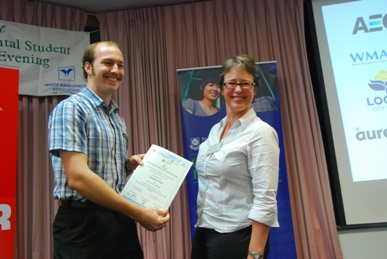 The runner up was Julia Cheong from QUT, congratulations Julia.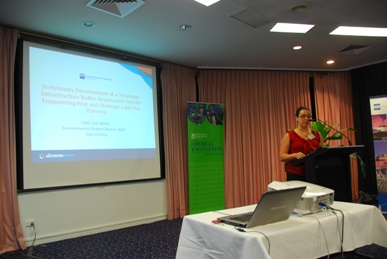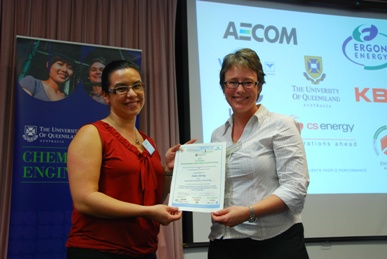 SSEE and WMAA would like to thank our generous sponsors of the evening. These were:
Gold Sponsors - AECOM, Ergon Energy and CS Energy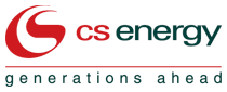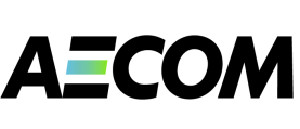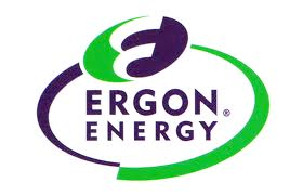 Silver Sponsors - KBR and Logan City Council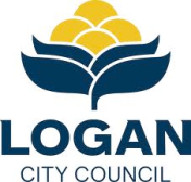 Bronze Sponsors - GHD, Aurecon and UQ schools of Civil and Chemical Engineering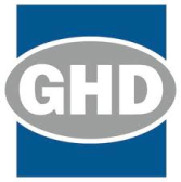 Sponsors in attendance on the night: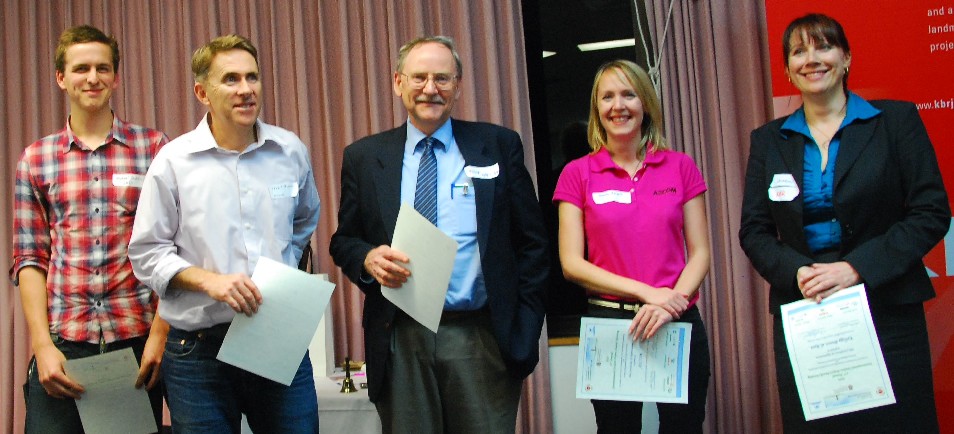 Our thanks also go to Dr David Moy of WMAA, Dr Kate O'Brien, School of Chemical Engineering of UQ and the third year organising students Annabelle Hassall, Marc Kuliszer, Benjamin Brooks and Maddalena Gabrielli who put an enormous effort in to organise the event.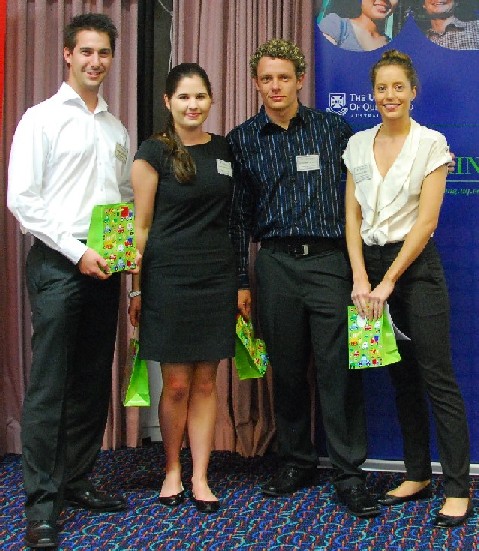 Thanks for a great night.